Clients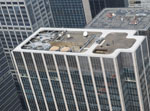 On one's client list you would like to see experience in both the private and public sectors with projects covering the industrial, retail, and institutional segments of the market. You want to see a mix of projects including warehouses, high rise buildings, retail centers, manufacturing facilities, and municipal buildings.
It is important to know that the senior staff has worked with various types of clients and with countless contractors, both of which RRK Associates, Ltd. has. Our many years in business will provide us with a wide breadth of experience to bring to your project.
You want to know that your roofing consultant has worked with major companies and has earned repeat business by doing the job well. With RRK, you can judge us by the companies we keep. We maintain ongoing relationships with our clients as we continue to expand our client base. This has allowed us to grow rapidly from a local to a regional to a national roof consulting firm.
We provide roof consulting services to many clients, including the following types:
Property / Asset Management Companies
Public / Private Real Estate Owners
Property Condition Assessment Companies
Developers / General Contractors
Architect / Engineering Firms
Insurance Companies
A detailed client list and references are available upon request